---
*Hope today finds you well.  I wanted to take a moment and introduce you to our friend Dom and let him share a little about what makes him tick.  He's a gifted and innovative trainer and a passionate and loving father.  You just can't help but smile when you're around him!
Hi, my name is Dom.
I'm passionate about helping you achieve your best.
Whether you're a seasoned athlete or new to fitness, I love helping you find your confidence, achieve your goals and improve your physical and mental strength.
This is a journey and I love walking it with people and guiding them down the right paths.
I've been a competitive athlete for most of my life.
In high school, football was my passion and my love for it helped me earn a scholarship to LMC (Lon Morris College) where I played competitively.
After finishing at LMC a desire within me began to spark and grow.
I wanted to take my love for motivating and inspiring others to the next level…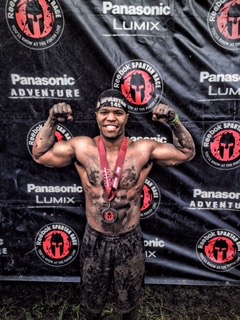 The people I work with are my inspiration.
I joined The League Elite Training Facility team in 2015.
I am so proud to be part of this dynamic and passionate team!   Our goal is that our training will help our fitness family grow…not only physically, through innovative, challenging and fun workouts, but that we can help them grow in knowledge.
Knowledge of how their diet, fitness and attitudes can help change their lives.  I love that we're all growing together!
As a PAC(K) Training certified coach and Youth Exercise Specialist, I help train everyone. Young and old.  Pro athletes like football players and MMA fighters, to everyday Joe's from lawyers to construction workers.
My dedication to innovation and bringing a fresh and fun approach to each class is the foundation of my success.   I've also been told that my best qualities are my love for learning and that I love to smile!
***(note from the editor, that's for real, Dom has an electric smile!)
In my spare time, I enjoy giving back.
Aside from my duties at The League, I love coaching little league sports including baseball and football.
When I'm not teaching class or out on the football field, I'm spending time with my beautiful wife and three lovely children. 
My ultimate goal is to help people change their lives for the better!  Whether it be from getting sweaty in a workout or a casual conversation over some good food.
I am truly here to make the world a better place!
Dom Anderson
Trainer & Coach
Follow me on Instagram