Cinnabon, Cinnabähn
When I created our cinnamon bun protein bars, I thought I'd come up with a "cute" play on the famous brand "Cinnabon".
And… since cinnamon rolls originated in Germany… the name Cinnabähn was born.
But, yesterday, while eating a MariGold Cinnabähn Bar for breakfast, I suddenly realized that these bars don't really remind me of Cinnabon cinnamon buns at all!

You see, when I was growing up, my dad used to love these little pinwheel "cinnamon rolls".
Now these aren't your typical yeasty cinnamon roll like the now famous Cinnabon.
Instead, they look more like pie dough that's been pressed out, slathered with lots of butter and cinnamon, then rolled and cut into swirly pinwheels.
Maybe you're familiar with them, too: "Little Debbie Pecan Spinwheels"
Of course, you could just bite into it like a cinnamon roll.
But, real connoisseurs like me would carefully unroll the spinwheel, and enjoy all the bright, cinnamony taste inside.   😋
So, anyway, while eating our Cinnabähn bar, it stuck me…
Our Cinnabähn bars remind me of the taste of those Little Debbie Spinwheels!
Exactly!
Our son confirmed it!
And, today, one of our son's dropped by for a visit. And, like all good sons, he gave me a hug, and then opened the fridge looking for something to tide him over.
He grabbed a MariGold Cinnabähn bar from our fridge, and took a bite.
When I asked him what it reminded him of, he said "Those cinnamon wheel things I used to eat with Grandpa when I was a kid!".
So, that's the story for how our Cinnabähn bars got their name.
Guess I really should have called them Cinnamon Swirls!!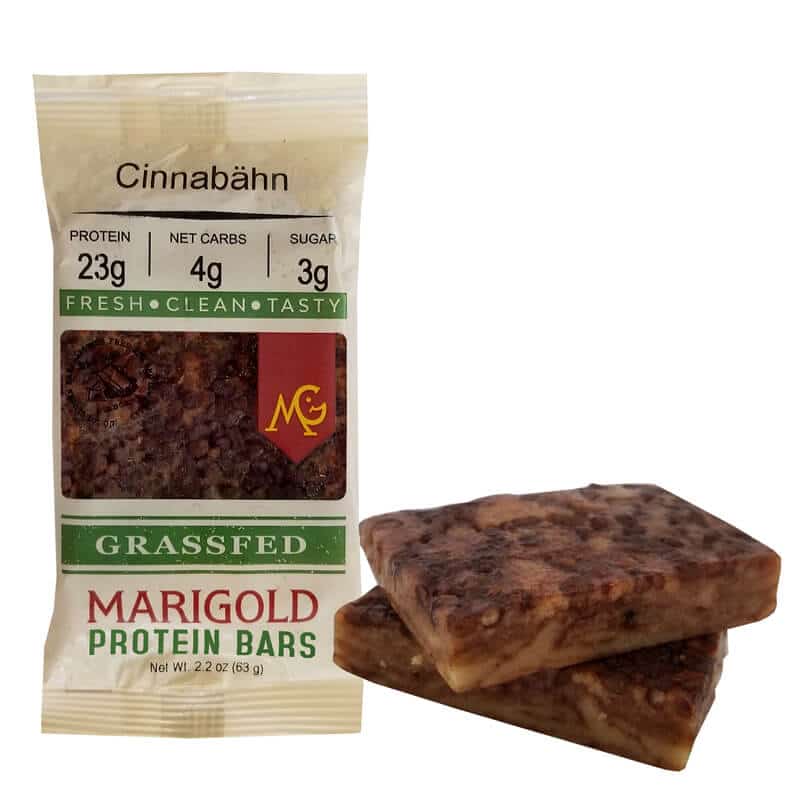 Next time you're in the mood for a treat that is filled with intense buttery cinnamon taste, reach for a MariGold Cinnabähn Bar.
These babies taste great, and pack a wallop of 1 g cinnamon per bar. So, you can treat your sweet tooth while keeping your blood sugar in check*
Even if I did kind of mess up on the name.
*This statement has not been evaluated by the Food and Drug Administration. This product is not intended to diagnose, treat, cure, or prevent any disease.