It's already hard maintaining a diet during the year, but it is especially difficult to maintain one when the holiday season rolls around. Is there anything worse than showing up to a holiday party only to be greeted by gingerbread men and peppermint bark? Here are three healthy holiday snacks to bring to your next Christmas party to help you stay on track!
3. Strawberries and Cream
You may be thinking, "is this really a holiday snack?" You'd be surprised at how easy it is to make a strawberry look like a santa hat! All you have to do is cut the stem of the berry off so it can stand up, and add a poof to the top and the lining on the bottom with the whipped cream.
As long as you don't use too much, canned whipped cream won't hurt your dieting efforts. A brand like Reddi Whip only has 1g of carbs, 1g of fat, and only 15 calories per serving. You could even make your own healthier whipped cream and use a piping bag to create the embellishments to the berry.
2. Cream Cheese Pomegranate Bites
One of my favorite parts about the holidays is that it's finally pomegranate season! For these bites all you need to do is slice cucumbers and top them with a bit of cream cheese and a sprinkle or pomegranate seeds.
Not only is this snack delicious, but it's also low calorie. Six of them will be around 60 calories. It could even work with a diet like Keto as long as you're light on the pomegranate. Trust us, everyone will love this holiday treat!
1. Nuts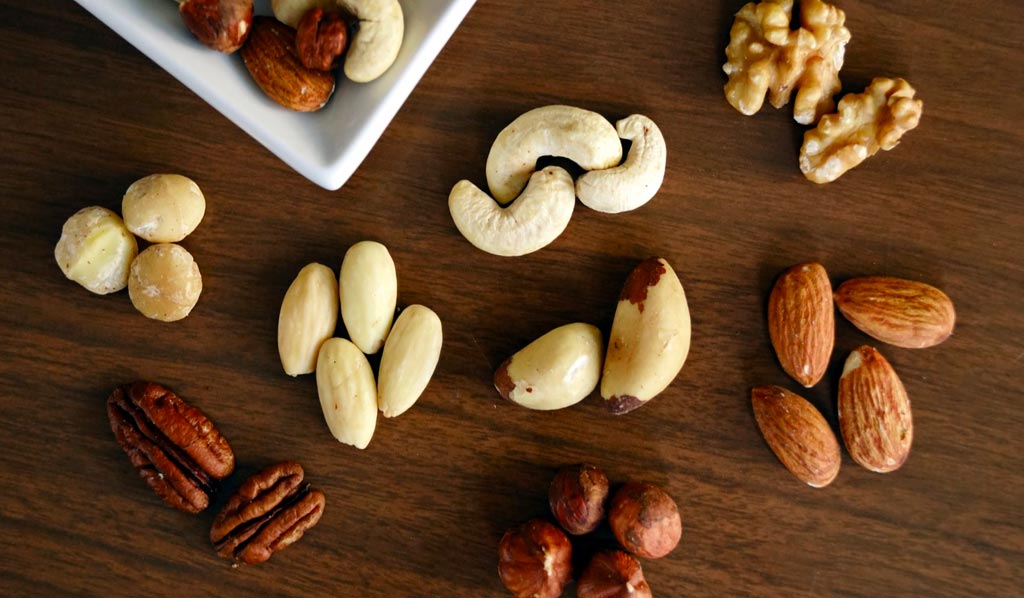 While people don't often think of nuts as in or out of season, harvest time for most nuts is from August to October. They're significance during the holidays dates all the way back to medieval times, where nut heavy foods were made around Christmas. Children would even find nuts in their stockings! Lucky for us dieters, nuts are a healthy, filling snack!
Sure you could bring a basic nut mix to your next party, or you could try something different! Spice up the party with some Smoky Chipotle Almonds. Or try out these Christmas Pecans, complete with cinnamon, orange, and maple.
So there you have it! Some healthy holiday snacks that won't break the diet bank!