Child labor is still alive and well, and it has brought you just about every piece of chocolate you'll find in a standard grocery store.
In the last few decades, huge chocolate brands you know and love like Nestle, Hershey, Mars, Ghirardelli, and others have come under scrutiny for their rampant use of child labor to harvest the key ingredient for their products– cocoa. While they have made some efforts clean up their act (Mars being the best of those listed above with 50% of their cocoa being certified as fair trade), these companies have not quite hit the mark.
What's the Deal With Child Labor?
You may be asking yourself, "How, in this day and age, is child labor still a problem?" It ultimately comes down to where the cocoa supply is coming from. The cocoa bean is grown in the tropical climates of Latin America, Western Africa, and Latin America. However, nearly 70% of that supply which is sold to the largest chocolate companies in the world, comes from Western African countries like Ghana.
In a place like Ghana where many farmers earn less than $2 per day, they have made use out of child labor and even forced child labor in order to keep their prices competitive.
Stories like that of a 12-year old named Ouare Fatao Kwakou who was sold to traffickers to work as a cocoa picker and had never received a penny for his work, are a lot more common than you think. What's even more troublesome is that many of the major chocolate makers are unable to trace their supply chain back to the original source. This means that they are unable to guarantee that child slave labor was not involved in production.
In 2015, Tulane University released survey research on child labor in West African cocoa growing areas. They concluded that over 2.1 million children were engaged in child labor in Ghana and Ivory Coast. This was a 21% increase from what they had observed five years prior. They found that 96% of those children were involved in hazardous activities meaning that they were performing dangerous tasks such as using chainsaws or machetes.
These children, who are either forced into the job or are willing take them on in order to support their families, are mostly between the ages of 12 and 16 though some reporters have found children as young as five.
A Day in the Life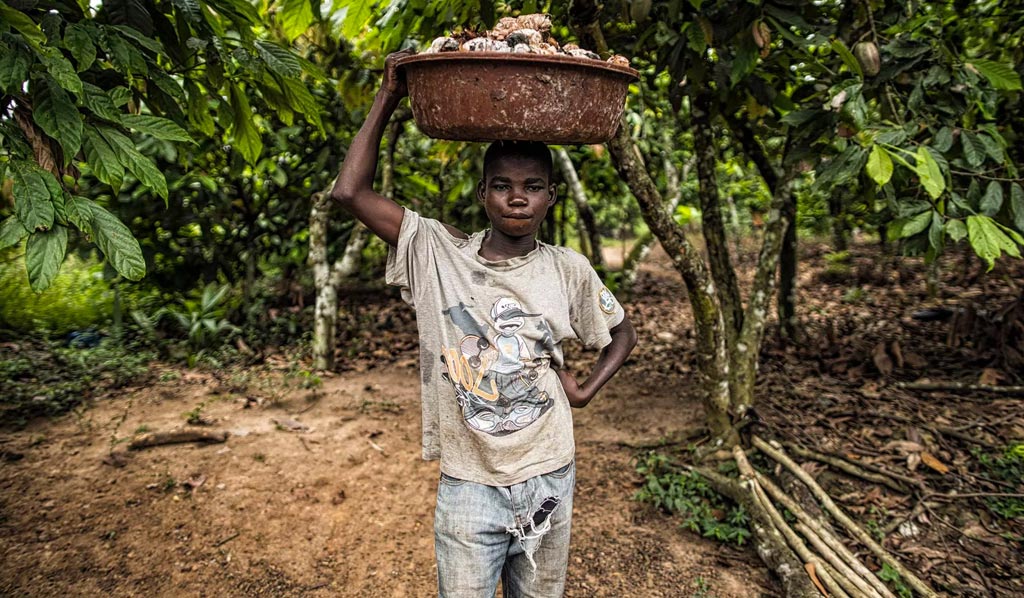 Photograph by Benjamin Lowy
What does it mean to be in this line of work? These children climb trees to cut the bean pods down using machetes. They then pack them into sacks and drag these sacks which can weigh over 100 pounds through the forest.
To cut the pods open, a child must hold it in one hand, and use a machete to strike it open with their other hand. Because of this, many of these children have scars on their hands, legs, and arms. In addition, everyday they are exposed to chemicals used on the farms to deal with the insect population. Children are tasked with the job of spraying the pods with industrial chemicals without wearing any protective gear.
These children, hard at work, don't receive an education. They may not see their family for years. They don't have access to clean water or sanitary bathrooms. They are fed the cheapest food available.
What Can Be Done?
The power to truly end child labor lies with the largest chocolate brands in the world. It requires paying cocoa farmers a living wage for their product. It requires us, as the consumers, to hold these companies accountable. Hershey, for example, remains tightlipped regarding accusations of child labor in its supply chain by neglecting to release information about where it sources their cocoa.
Until these larger companies make the effort to end this despicable practice, there are a couple of things you can start doing. Try your best to avoid chocolate from Western Africa if possible. This website has a good list of recommended chocolates to choose from that are ethically sourced.
You can also start looking at labels. When they have a certification like any of the ones shown below, that means the use of forced and child labor was prohibited in the harvesting of the cocoa. This website has more in-depth descriptions of what these labels mean as well as a scorecard of some of the best and worst chocolate companies.
Here at MariGold, we're doing what we can to help.  We use chocolate and cocoa products from Peru, sourced through Ciranda. Ciranda is dedicated to supplying ingredients that have been produced in fair trade conditions while respecting the environment.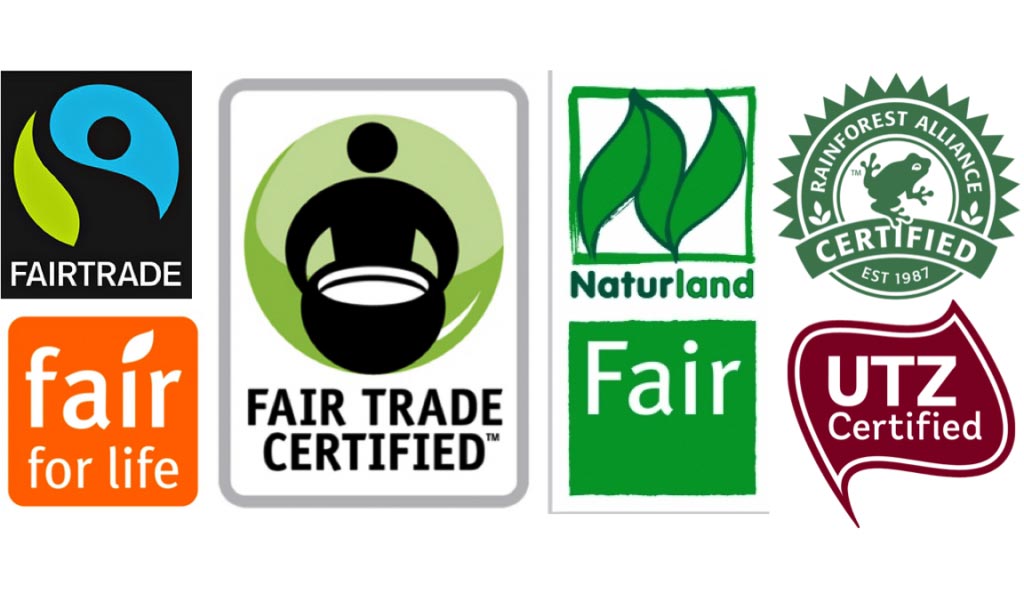 [/vc_column_text][/vc_column][/vc_row]