Raspberry Lemon Keto Pies
Maria Fernanda López created this inspiring recipe for Raspberry Lemon Keto Pies featuring our MariGold Lemon Coconut Fat Bombs. 
They are easy to make and filled with tangy, fruity goodness!
Maria is a nutritionist, foodie, and creator of Purely Healthy Living food and recipe blog where she shares her paleo, low carb, and vegan recipes that focus on real ingredients and nutrient dense foods.

Be sure to check out Maria's website and her Instagram for more creative and amazing recipes!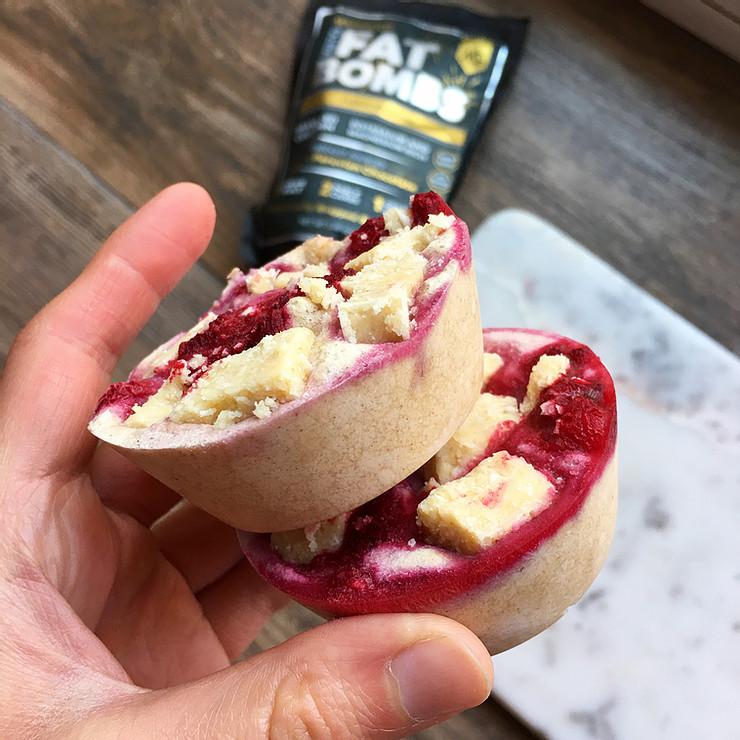 "You are going to love this recipe for the summer! Raspberries are in season and they are one of the best low carb fruits with a lot of antioxidants to offer, they created a lovely synergy with the Lemon Coconut Fat Bombs!" 
– Maria Fernanda López (Purely Healthy Living)
5 Lemon Coconut Fat Bombs Marigold
1/2 cup of coconut flour
1/3 cup granulated monk fruit or erythritol
2 tbsp of grass fed beef gelatin (optional)
5 scoops of your favorite protein powder
1/2 cup of frozen raspberries
2 cups of water or nut milk
In a mixing bowl add the protein, monk fruit, coconut flour and beef gelatin.
Add the the liquid and mix well.
Pour the mix in twelve silicone muffin cups and top with raspberries.
Finally add the crumbled Fat Bombs and freeze!
For the original recipe and her review on our MariGold products, click the link below:
MariGold ingredients used in this recipe:
MariGold Lemon Coconut Fat Bombs are a keto friendly snack with macros you're gonna love!
These fat bombs feature tangy lemon mixed with buttery ghee, that gives an explosion of taste in each coconutty bite! This delicious creation will satisfy that desire for "something sweet" and each bar has 15 g of fat to help keep you feeling full longer. Plus, it's filled with grass-fed collagen, for healthy strong bones and glowing skin.
This great tasting, low carb fat bomb treat won't throw you out of ketosis.