Pumpkin Swirl Brownies
(Keto / Low-Carb)
If you've never tried the chocolate and pumpkin combo, then this is the time! You won't be disappointed!
These Pumpkin Swirl Brownies combine Deedee's (@ketowithdeedee) delectable The BEST Keto Brownies recipe with a pumpkin infusion that might just become your new favorite fall treat!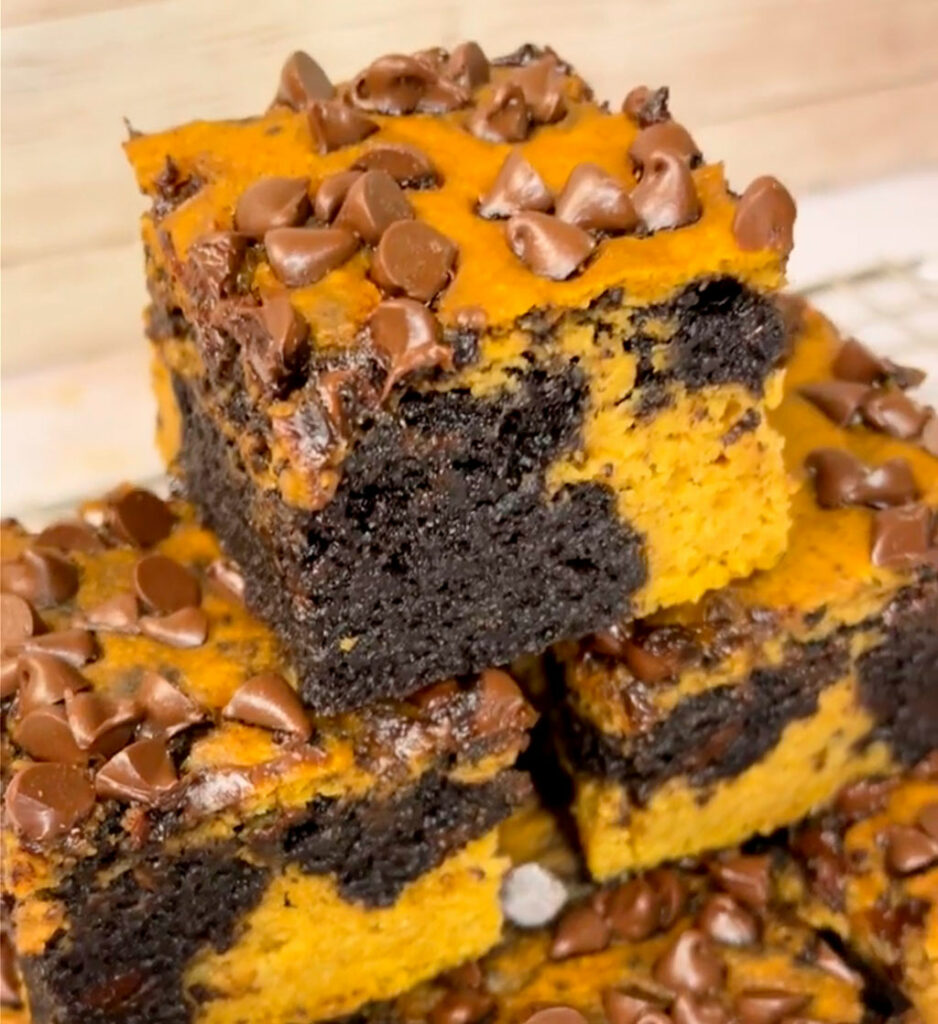 First, it's brownies…and who doesn't love brownies? Second, they are healthy brownies! So, you can enjoy that decadent brownie taste while also enjoying some awesome health benefits.
These brownies have a protein and flavonoid boost, along with bone-strengthening and skin rejuvenating benefits with a scoop of our MariGold Mocha Collagen Latte Protein Coffee powder.
The pumpkin part of the "pumpkin swirl" adds the powerful antioxidant, beta carotene, along with fiber, potassium, vitamin A, vitamin C, vitamin E, and so much more.
If that wasn't enough, the pumpkin swirl also contains another healthy protein boost with a scoop of our MariGold Creamy Vanilla Whey Isolate Protein Powder.
These could be an incredible dessert, but also could be a pre- or post-workout snack that can help with performance, muscle building, and muscle recovery.
We hope you enjoy these incredible brownies!
Deedee loves baking and creating keto & low carb recipes. She shares her incredible creations on her Instagram. Be sure follow her (@ketowithdeedee) for more creative and amazing recipes!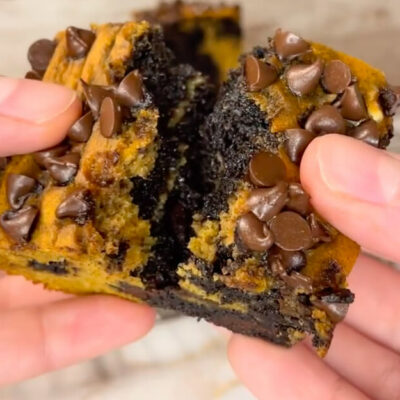 "I was craving brownies, and I decided to add a pumpkin swirl. They came out so delicious. These would be great for thanksgiving too!" 
– Deedee (@ketowithdeedee)
1/2 C Unsalted butter, melted & hot
1 C Granulated sweetener (i.e. allulose)
1 TBSP Olive or Coconut oil
2 Eggs, room temp
2 TSP Vanilla extract
1/2 C Almond Flour
1/2 C Unsweetened Cocoa
1/4 TSP Salt
1/2 C @choczero Chocolate chips, optional
1 Scoop MariGold Mocha Collagen Protein Coffee Powder
Pumpkin swirl (adapted from @laurenfitfoodie)
1 Scoop MariGold Creamy Vanilla Whey Isolate Protein Powder
1/2 C Almond flour
3 TBSP Granulated sweetener (i.e. allulose)
3/4 TSP Baking powder
1/4 TSP Baking soda
1 TSP Pumpkin pie spice
1 Egg
3/4 C Pumpkin purée
1/2 TSP Vanilla extract
Whisk butter & sweetener really well, until combined.
Add in eggs and beat with electric mixer for 2 minutes until completely combined.
Add in all other ingredients and stir together with a rubber spatula or spoon until just combined. Be careful not to over mix!! Pour in an 8×8 parchment lined pan and make the pumpkin layer.
DIRECTIONS (Pumpkin Layer)
Combine all dry ingredients.
Blend pumpkin, egg, sweetener, and vanilla. Combine dry ingredients into wet ingredients. Swirl pumpkin mixture into your brownies.
Top with more @choczero chocolate chips, if desired. Bake at 350 for 25-30 minutes until done.
MariGold ingredients used in this recipe:
Like the idea of protein coffee, but want a DAIRY FREE option?
If so, our Mocha Collagen Latte is for you!
All the same chocolatey goodness that's in our Iced Café Mocha but with the bone strengthening and hair & skin rejuvenating benefits of collagen protein!
Brings together delicious "superfood" cocoa, our grass-fed collagen peptides and a kick of pure organic arabica coffee to enlighten your senses and brighten your day.
And, it's 100% Dairy Free!
MariGold Whey Isolate is derived from sweet Irish milk given from Truly Grass-Fed™ cows who spend 95% of their time roaming freely and feasting upon the delicious green grasses of the breathtaking Irish countryside.
MariGold Creamy Vanilla Whey Protein Isolate has everything you want in a protein drink, and none of the things you don't!