Pumpkin Iced Latte
(Keto / Low-Carb)
If you've never made Pumpkin Iced Latte at home before, you'll find it's so easy and delicious that you'll be wanting to make it all the time.
This recipe is special because it not only encompasses all the fall flavors you crave this time of year, but also is a healthy version that you can feel good about drinking!
What you get with this Pumpkin Iced Latte (by the way, it can also be made hot if you prefer) is a nutrient-rich protein and flavonoid boost using our MariGold Vanilla Collagen Latte. If that weren't noteworthy enough, our High Protein Collagen Coffee Powder also has a premium quality grass-fed type 1 & 3 hydrolyzed collagen peptides. This means you also get to enjoy the bone-strengthening and skin rejuvenating benefits of collagen!
Amanda (@amandaeatsketo) created this recipe and we couldn't be more excited with the flavor combination she chose. The pumpkin in this coffee (if you choose to add the puree) also will provide you with many other vitamins and minerals, as well as fiber and the antioxidant powerhouse, beta carotene.
Super easy, super healthy, and super tasty. 
We hope you enjoy!
Amanda (@amandaeatsketo) enjoys creating innovative food that keeps her healthy. This is only one of her awesome food creations, so be sure to check out her Instagram for more recipes.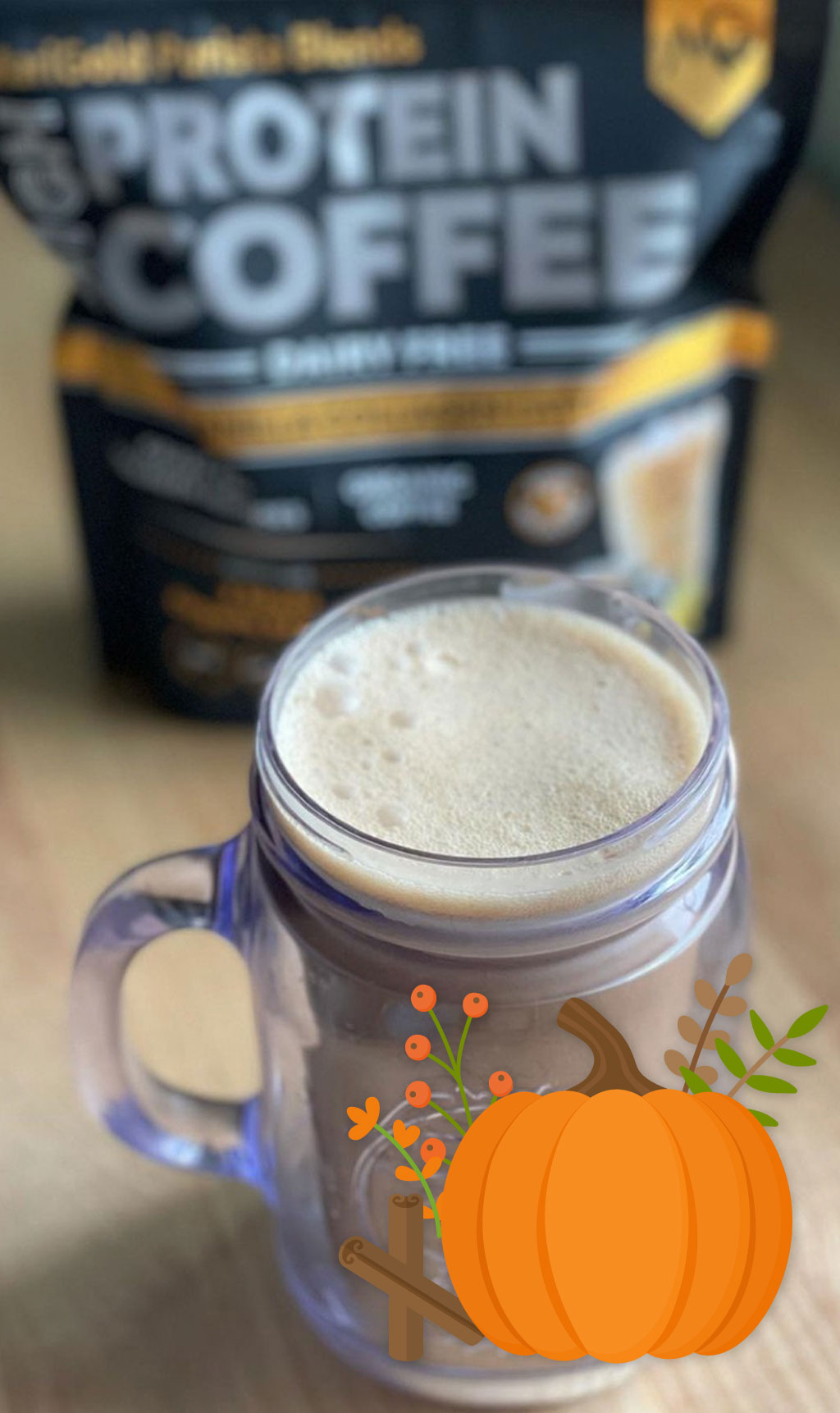 "This is the first time I've tried this product and I'm completely hooked!!! It's got super clean ingredients and it's delicious!" 
– Amanda (@amandaeatsketo)
2 scoops MariGold Vanilla Collagen Latte Protein Coffee
1.5 cups cold water
2 Tbsp heavy whipping cream
1/4 tsp @daksspices pumpkin spice
1 Tbsp pumpkin (could leave out)
Blend everything until combined and frothy.
Add ice and ENJOY!
MariGold ingredients used in this recipe:
Like the idea of protein coffee, but want a DAIRY FREE option? If so, our Vanilla Collagen Latte is for you!
All the same vanilla goodness that's in our Iced Vanilla Latte, but with the bone strengthening and hair & skin rejuvenating benefits of collagen protein!
Combines rich organic vanilla with and robust organic arabica coffee to create a decadent creamy flavor experience that's so delicious, you won't believe it's so good for you!
And, it's 100% Dairy Free.