Peaches and Cream Popsicles
(Low Carb - Keto - Gluten Free)
As Maria Fernanda López puts it, this recipe is creamy, dreamy and peachy!
If you love the peaches and cream flavor combo, you're going to love these refreshing popsicles that are not only delicious, but pack a protein boost too!
Maria included vanilla whey protein in these, and we've got the perfect protein option for this recipe….MariGold Creamy Vanilla Whey Isolate, of course!
She also included our best-selling Keto Pecans for a sweet and textured crunch which pairs perfectly with the peaches and cream combo!
These popsicles are low-carb, having only 1.9 net carbs each. They are also keto-friendly and gluten-free. And the best part…they are not just a dessert! You can enjoy these any time of the day and they are a great option for a pre or post-workout pick-me-up.
Maria (@purely_healthy_living) is a nutritionist, foodie, and creator of Purely Healthy Living food and recipe blog where she shares her paleo, low carb, and vegan recipes that focus on real ingredients and nutrient dense foods. You can view the Maria's original recipe here.
Be sure to check out Maria's website and her Instagram for more creative and amazing recipes!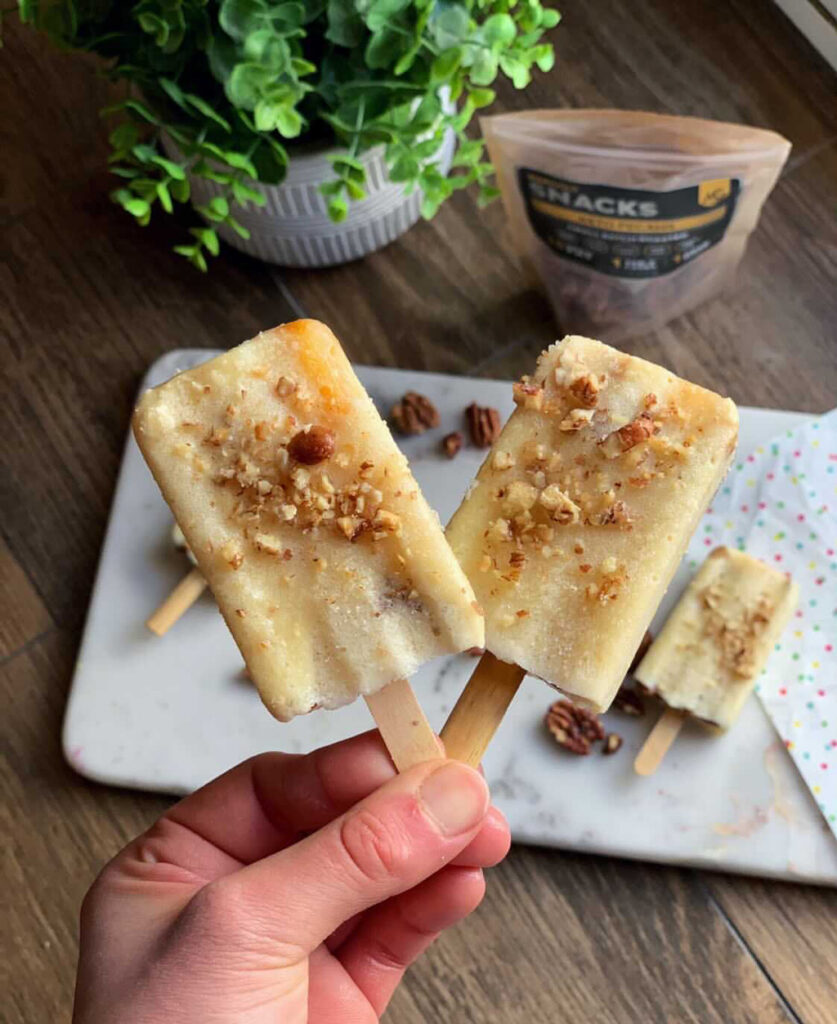 "Such a good combination of flavors; I mean, who could resist peaches and cream? Along with the touch of candied pecans, these popsicles are not only the easiest thing to do but they are also exquisite." 
– Maria Fernanda López (Purely Healthy Living)
Slice the peaches and set aside 1/4 cup of them.
Add the rest of the ingredients into a blender except for the keto pecans.
Add some the peaches into the bottom of 9 popsicle molds.
Pour the mix into popsicle molds.
Add the keto pecans, add the sticks and freeze overnight.
Enjoy!
MariGold ingredients used in this recipe:
Our MariGold Creamy Vanilla Whey Protein Isolate has everything you want in a protein drink, and none of the things you don't! It's derived from sweet Irish milk given from Truly Grass-Fed™ cows who spend 95% of their time roaming freely and feasting upon the delicious green grasses of the breathtaking Irish countryside.
This means our protein powder is 100% pure, clean, premium quality protein and only contains the good stuff your body wants and needs.
Our MariGold Keto Pecans are the perfect crunchy and sweet, low-carb KETO snack (only 1 NET CARB). Now you can get all the crunchy-sweet taste you crave with NO ADDED SUGAR!