Paleo Coconut Mocha Cookies
These cookies are super delicious and nutritious! 
They are a sweet treat with a whole lotta good stuff packed in too. They include an energy-boosting dose of protein with unsweetened almond butter and our MariGold Mocha Collagen Latte High Protein Coffee.
Not only will they satisfy your sweet tooth, but they will keep you feeling full longer and help curb cravings. They'll taste like you're cheating, but the best part is you're actually giving your body the fuel it needs to power through your day in a healthy way!
Oh, and they are paleo and keto-friendly? Can't go wrong there!
Rachel Hale (@rachelhalemusic) of Hale's Kitchen (and talented music artist and American Idol Season 12 Top 20 Female Finalist) created this chocolatey-coconut flavored recipe.
Be sure to check out Rachel's Instagram for her fantastic and creative recipes!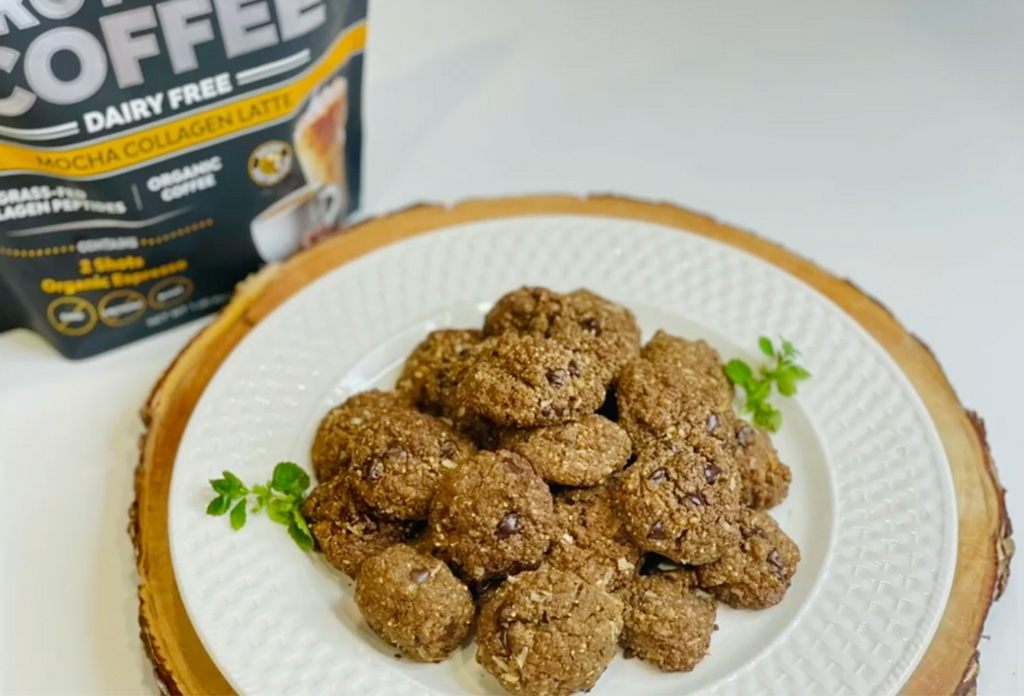 "You guys are pretty DOUGH-PE so I thought I would combine MY two FAVORITE things for you in "Hale's Kitchen!" That is…cookies and coffee of course! I am so excited to be partnering with @marigoldbars to bring you my PALEO Coconut Mocha Cookies."
– Rachel Hale (@rachelhalemusic)
1 Cup Unsweetened Creamy Almond Butter
⅓ Cup Monk Fruit
2 tbsp Unsweetened Coconut Flakes
1 Organic Egg
1 tsp Baking Soda
½ cup @lilys_sweets Dark Chocolate Chips (or keto chocolate chips)
Put all ingredients in a stand mixer, and mix well.
Roll dough into 1 inch balls, and place on cookie sheet.
Bake at 350 degrees Fahrenheit for 10-12 minutes and enjoy!
MariGold ingredients used in this recipe:
Like the idea of protein coffee, but want a DAIRY FREE option?
If so, our Mocha Collagen Latte is for you!
All the same chocolatey goodness that's in our Iced Café Mocha but with the bone strengthening and hair & skin rejuvenating benefits of collagen protein!
Brings together delicious "superfood" cocoa, our grass-fed collagen peptides and a kick of pure organic arabica coffee to enlighten your senses and brighten your day.
And, it's 100% Dairy Free!