Nashville Hot Chicken Tenders
Looking for a hot & spicy, mouth-watering chicken tender recipe without the carbs? 
Well, look no further!
Lori Monigold (with Low Carb Lori food blog) came up with this awesome recipe using zero-carb pork rind crumbs and our MariGold Unflavored Whey Isolate Protein Powder. 
She combines her unique mix of spices and pickle juice brine for incredible flavor. 
Lori is known for creating healthy, low-carb recipes that always deliver on flavor! Be sure to check out Lori's website and her Instagram for more creative and amazing recipes!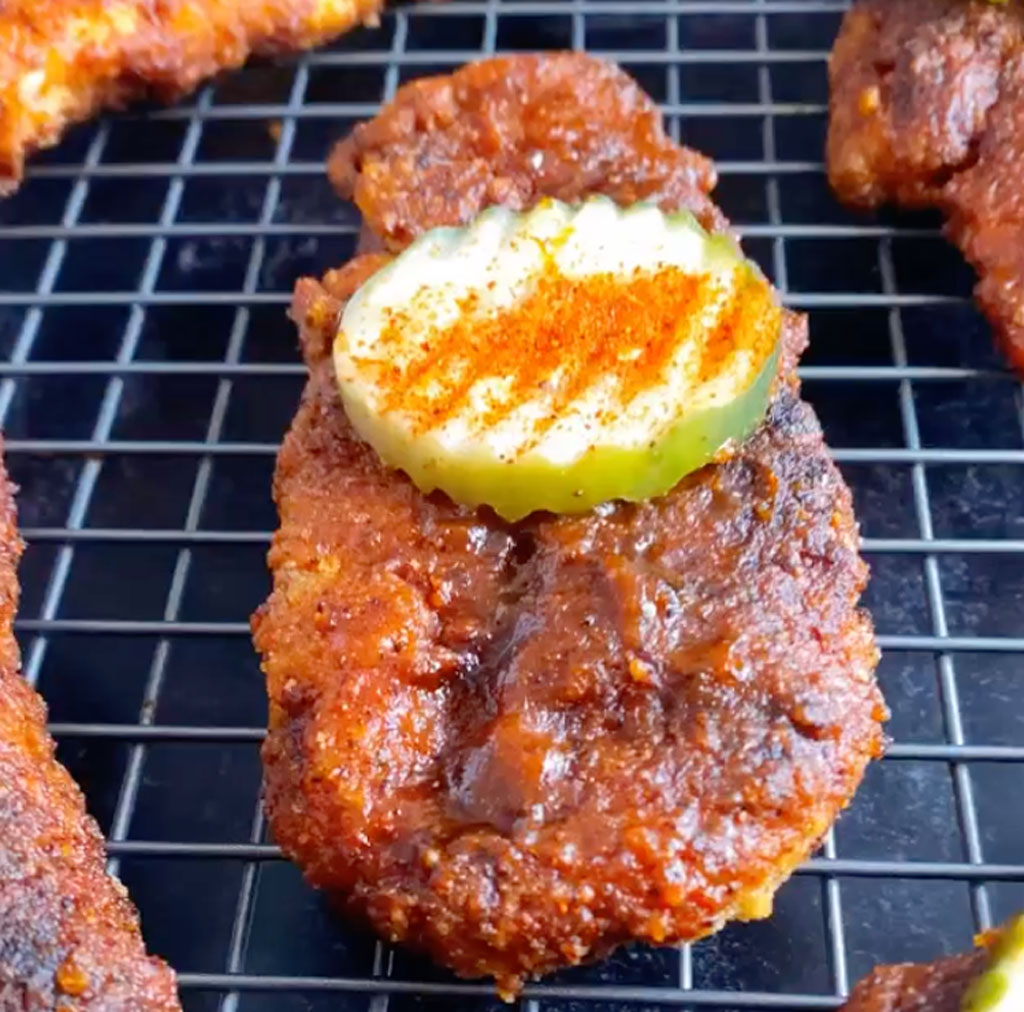 2lb chicken tenders
@grillospickles juice for brine
3 eggs, whisked
Oil for frying
Coating:
1 cup almond flour
1/3 cup @porkkinggood unseasoned crumbs
2 tsp each:

Salt, Cayenne, Hot paprika, Chili powder

Black pepper to taste
Sauce:
1/2 stick butter, melted
1/4 cup hot sauce
2tbsp @sukrinusa golden sweetener
1 tbsp each:

Cayenne, Chili powder, Hot paprika, @flavorgod garlic lovers
Brine chicken in pickle juice 4 hours in fridge. Remove and pat dry.
Add whisked eggs to one bowl and combine all coating ingredients in a second bowl.
Dip chicken in egg and then coating. Repeat for a double coating.
For fried version heat oil over medium heat and fry 4 minutes per side until fully cooked and crispy. For air dyer option spay with oil and cook at 375 8-10 minutes per side.
Add butter, hot sauce and sweetener to a bowl and microwave 45-60 seconds to melt. Stir in spices and brush onto chicken.
Enjoy with @grillos pickles
MariGold ingredients used in this recipe:
Our MariGold Truly Grass-fed Whey Isolate Protein Powder  is 100% pure, has 26 grams of protein per serving and is non-GMO, rBST free, and is lactose, soy and gluten free.
MariGold WPI is cold processed and micro filtered, leaving it UNDENATURED and incredibly creamy. Then it's INSTANTIZED, with choline rich sunflower lecithin, so it can easily be mixed with water, or any of your favorite morning and afternoon smoothies or drinks for a great protein boost.  It can also be baked in your favorite recipes 🙂