Christmas Sugar Sprinkle Cookies
(Keto-Friendly, Low Carb, Sugar-Free)
Don't these cookies just look like Christmas? These would look beautiful on the holiday table, but in this case you don't have to worry about grabbing for them after your Christmas or holiday dinner.
These Christmas Sugar Sprinkle Cookies are anything but sugary…in fact they are sugar-free! But that doesn't mean they don't deliver on incredible flavor.
The best part of these cookies (besides how tasty they are) is that they are also keto-friendly and contain a nutrient-rich protein boost with our MariGold Creamy Vanilla Whey Isolate Protein Powder.
The ingredients in this recipe are simple, and these cookies are easy to make. You can get creative and decorate them in your own way as well!
As Deedee (@healthyeatswithdeedee) says, even the kiddos will love them!
Deedee loves baking and creating keto & low carb recipes. She shares her incredible creations on her Instagram. Be sure follow her (@healthyeatswithdeedee) for more creative and amazing recipes!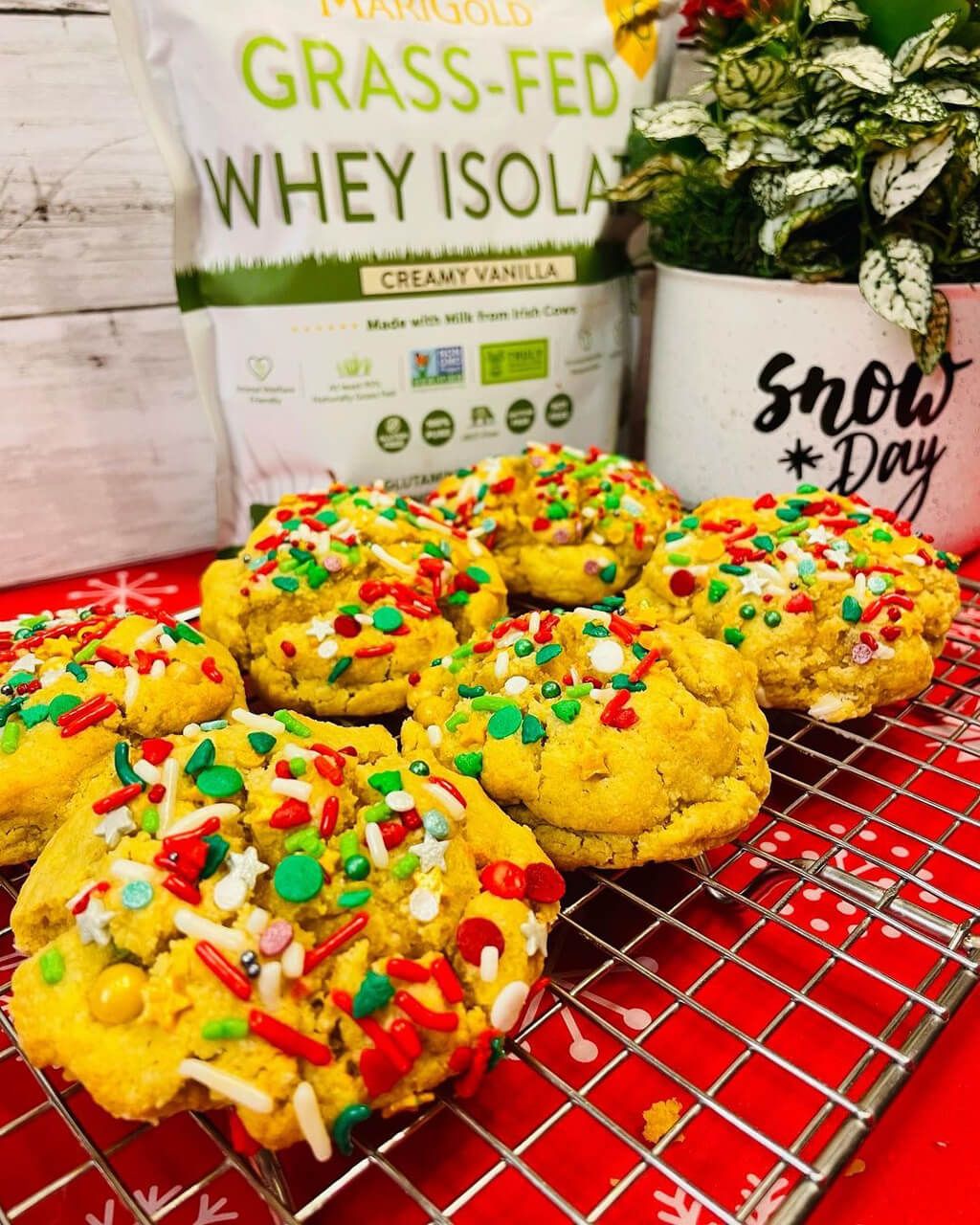 "These are SO good! You have got to make these, even the kids will love them! They are the perfect soft and chewy texture and a great holiday cookie recipe to try."
– Deedee (@healthyeatswithdeedee )
1/2 C butter
1/4 C brown sweetener (I used @truvia)
1/4 C granulated sweetener (I used @truvia)
1 egg
1 egg yolk
1 C almond flour
1/2 C lupin flour
2 TSP vanilla extract
1 TSP cake batter @oooflavors (optional)
1 TBSP cornstarch
1/2 TSP baking powder
1/2 TSP baking soda
Dash of salt
1 TBSP almond milk
Christmas colored sprinkles (optional)
Beat butter until smooth. Add sweeteners and mix.
Add eggs and extracts and beat until combined.
In a separate bowl, combine all dry ingredients. Combine dry ingredients into wet ingredients until a dough starts to form. Beat in milk.
If using sprinkles, stir them in now. Make large dough balls and dip the tops into more sprinkles if desired.
Bake at 375 on a parchment-lined baking sheet for 8-10 minutes. They will still look wet and underdone but the edges will look set.
Take them out and let them sit on the baking sheet to firm up.
MariGold ingredients used in this recipe:
MariGold Whey Isolate is derived from sweet Irish milk given from Truly Grass-Fed™ cows who spend 95% of their time roaming freely and feasting upon the delicious green grasses of the breathtaking Irish countryside.
MariGold Creamy Vanilla Whey Protein Isolate has everything you want in a protein drink, and none of the things you don't!