Looking for a quick and tasty dessert? Sometimes we forget to prepare for those late-night cravings, and this delectable Chocolate Protein Mousse can be your healthy go-to sweet treat.
Well, you can have this any time, but the reason we say that is because it's so quick and easy to make.
Even better, it's not just a sweet tooth fix – this chocolate mousse recipe includes our MariGold Rich Chocolate Malt Whey Isolate Protein Powder. That means you'll get all the benefits of a quality protein boost, like reduced cravings, and metabolism, muscle, and immune system support.
Hannah Scott (@simplyhannahscott) came up with this delicious dessert. She has a food and fitness Instagram that includes her favorite keto recipes and much more.
Be sure to check out Hannah's Instagram for more creative and amazing recipes!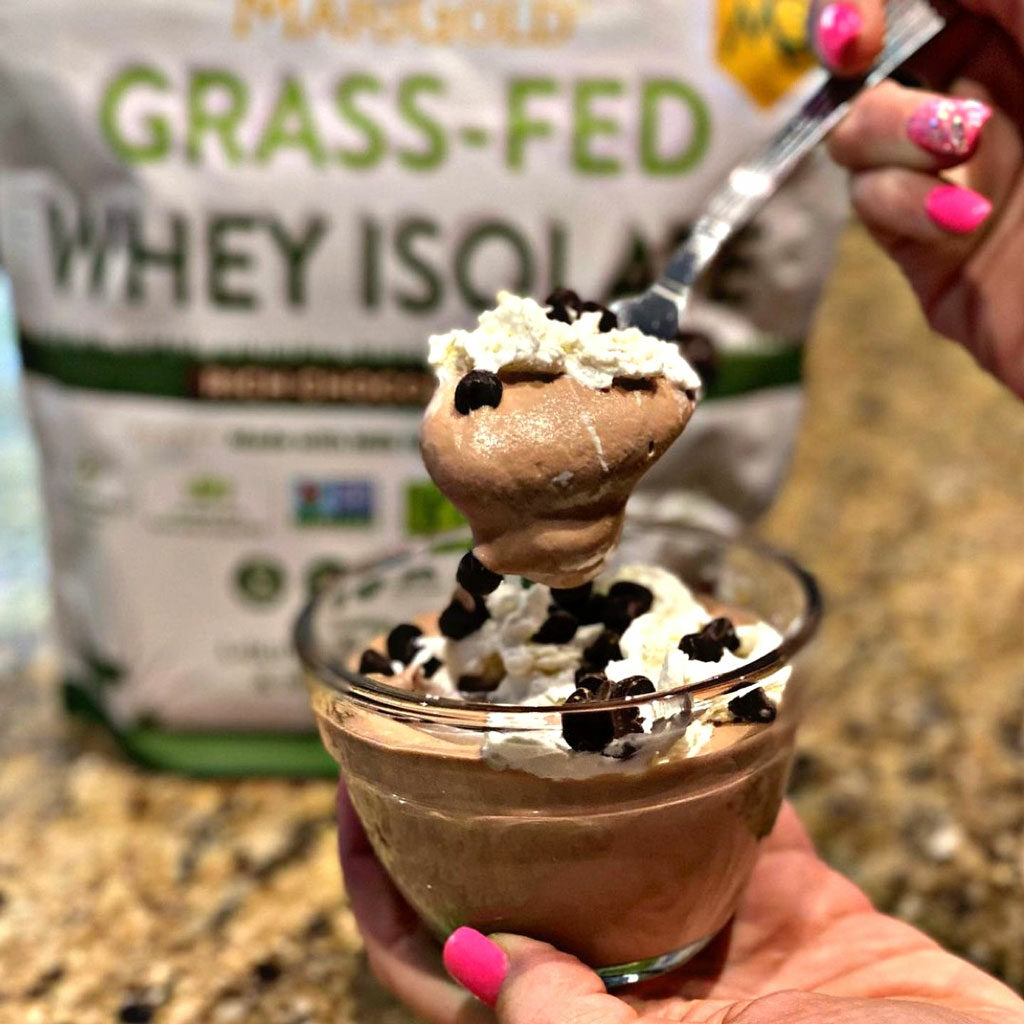 4 scoops MariGold Rich Chocolate Malt Whey Protein Powder
16 oz cream cheese, softened
6 tbsp sour cream (or use Greek Yogurt for an extra protein boost)
4 tbsp butter, softened
3 tsp vanilla extract
1/3 cup Swerve confectioners sugar (or your favorite confectioners sugar replacement)
1/4 cup cocoa powder
1 tsp coffee extract
Whipped topping of your choice
1/2 cup dark chocolate chips
Combine all ingredients together using handheld mixer or food processor until smooth. Served chilled.
Optional:
Top with a dollop of whipped cream and sprinkle with dark chocolate chips.
MariGold ingredients used in this recipe:
MariGold Whey Isolate is derived from sweet Irish milk given from Truly Grass-Fed™ cows who spend 95% of their time roaming freely and feasting upon the delicious green grasses of the breathtaking Irish countryside.
MariGold Rich Chocolate Malt Whey Protein Isolate has everything you want in a protein drink, and none of the things you don't!