Who doesn't love chocolate chips? They're used in our favorite sweet recipes like gooey chocolate chip cookies, brownies, muffins, pancakes and more. Plus, they're just fun!
At MariGold, we use high quality, ethically sourced, organic dark chocolate chips in our Protein Bars, Fat Bombs, and in our Snack nut mixes. Chocolate, especially high quality dark chocolate, is loaded with healthful flavonoids, flavenols and antioxidants. So, not only is chocolate fun to use in our favorite recipes, but they have many health benefits as well!
But, do you know how the chocolate chip was invented? We found the story of the history of chocolate chips fascinating and wanted to share it with you.
The Invention Chocolate Chips
Chocolate chips were actually invented by accident in 1937 by Ruth Wakefield, who owned the Toll House Inn.
Preparing food for her guests, she was in the process of making one of her delicious cookie recipes called "Butter Drop Do" cookies. She realized that she was out of the cocoa powder she needed to make the cookies and had to come up with a solution in a hurry!
She had baker's chocolate bars, so she decided to break the chocolate into small pieces and toss them into the dough mixture. She figured the chocolate would melt into the dough. However, when she took them out of the oven, the chocolate pieces kept their shape rather than meshing with the dough as she expected…creating the Chocolate Chip Cookie!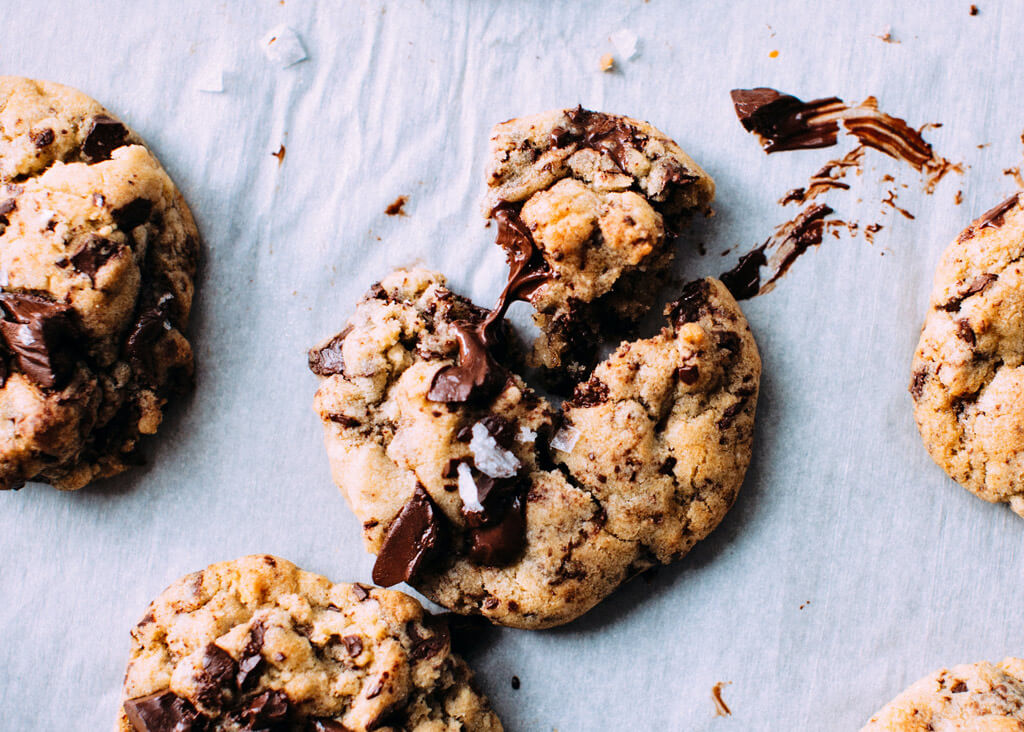 Her Chocolate Chip Cookie became extremely popular, and in 1939 Nestle decided to place her recipe on their chocolate bar wrapper in exchange for supplying her with a lifetime of chocolate.
The actual "Chocolate Chip" was not commercially produced until 1941, but they became so popular that many varieties were created. They now come in chunks, chips, and morsels and also come in a varying levels of sweetness – dark, semisweet, bittersweet, and milk chocolate. As we all know, they are highly versatile, can be used in a wide range of recipes, and are loved all over the world!
The Many Health Benefits of Chocolate
As we said, there are many healthy benefits of chocolate because of their flavonoids, flavenols and antioxidants. Along with these, there are additional compounds in chocolate that have been shown to have inflammation-fighting properties than can reduce cardiovascular risk, lower the risk of stroke, boost mood, improve blood flow and much more.
To find out more, be sure to read our "4 Benefits of Dark Chocolate" and "Loco for Cocoa" articles that dive deeper into the health benefits of chocolate!
MariGold's Healthy Chocolate Chip Snacks
After that flavorful story, you might find yourself wanting a chocolate chip treat…and we don't blame you!
It's times like these that it's great to have a MariGold snack nearby.
We understand what it's like to crave sweets, but the good news is that you can curb that sweet tooth with a healthy alternative that doesn't have all the sugar and other junk that the typical chocolate chip cookie or brownie has.
Our Protein Bars have 20+ grams of premium quality energy-boosting protein, and are very low carb and very low sugar. Our Cookie Dough flavor is a MariGold fan favorite!
Our Fat Bombs feature two delicious chocolate chip flavors: Mint Chocolate Chip and Chocolate Chip Cookie Dough. They are keto-friendly, so they are also low carb and low sugar, but also have grass-fed collagen in them for healthy skin and bones.
Be sure to check out the Nutritional Information page as well as our "What's Inside our Products" page to find out about our ingredients and all the healthy benefits you can enjoy with a MariGold snack!