High blood sugar and insulin resistance are linked with inflammation, heart disease, kidney disease, and diabetes. Protect yourself with these nine blood-sugar-balancing foods:
1. Cinnamon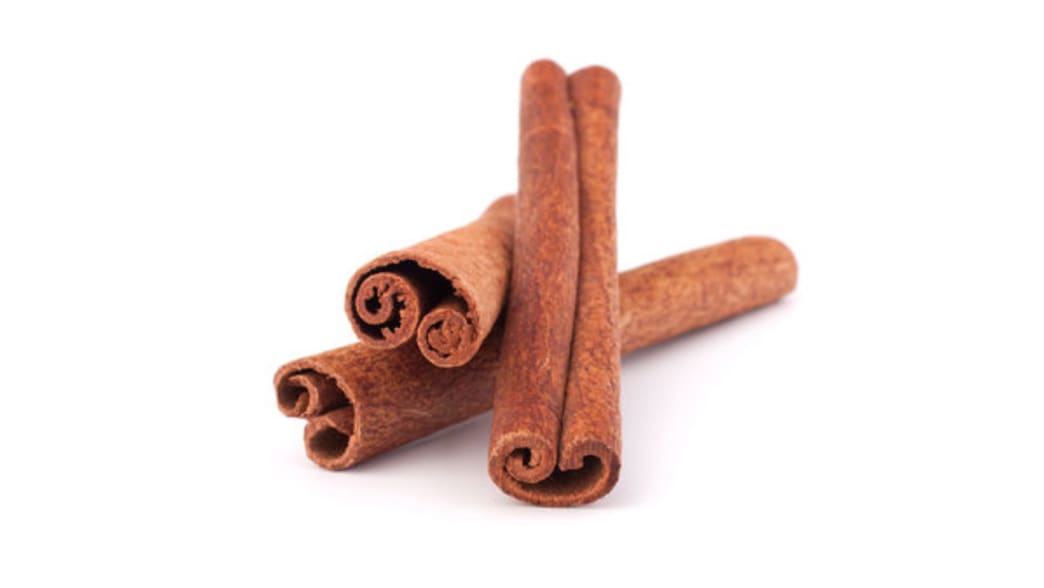 Cinnamon contains compounds that reduce blood sugar and improve insulin sensitivity, and cinnamon may also lower cholesterol and triglyceride levels—risk factors in diabetes. Don't overdo it: Studies have found results with only ¼–1/2 teaspoon per day, and cinnamon contains coumarin, which may cause problems at higher doses.
Try this: Stir cinnamon and currants into oatmeal; add a cinnamon stick to your morning coffee; toss steamed sweet potatoes with cinnamon, nutmeg, cloves, and coconut oil.
Did You Know?

Studies show that eating as little as 1/4 tsp. of cinnamon per day can improve insulin sensitivity and may also lower cholesterol.
2. Vinegar
Vinegar contains acetic acid, which improves insulin sensitivity and can lower blood sugar by as much as 20 percent when consumed before or with meals containing carbs.
Try this: Simmer balsamic vinegar until reduced to a thick, syrupy glaze, and drizzle on strawberries; combine apple cider vinegar with honey, lemon juice, and cayenne pepper for a breakfast tonic; whisk together red wine vinegar, shallots, mustard, thyme, and olive oil for an easy vinaigrette.
3.   Broccoli sprouts
Broccoli sprouts are high in a compound called sulforaphane that can improve insulin resistance and protect against diabetes. Broccoli sprouts also help lower LDL cholesterol, triglyceride levels, and inflammation in people with diabetes. You can find broccoli sprouts in most natural food stores, or look for broccoli sprout powder.
Try this: Combine broccoli sprouts, grated carrot, and thinly sliced red onion in a pita; toss broccoli sprouts with shredded spinach, grated beets, and avocado, and drizzle with olive oil and vinegar; add broccoli sprout powder to pasta sauce.
4. Flax and chia
Flax and chia are high in insoluble fibers that control the rate at which sugar is released into the bloodstream, and eating ground flax can decrease blood sugar levels by as much as 20 percent. Flax must be ground to be fully digested; buy whole flax and grind it yourself in a spice mill or coffee grinder for maximum freshness (chia seeds don't need to be ground).
Try this: Combine chia seeds, coconut milk, and raspberries, and let stand till thick for a creamy pudding-like treat; toss cooked broccoli florets with lightly ground flax, chopped pecans, and olive oil.
5. Pistachios
Pistachios, like other tree nuts, improve glycemic control and reduce insulin levels, and may also lower blood pressure, inflammation, and heart disease risk in people with diabetes.
Try this: Toss toasted pistachios with blackberries, mangos, and arugula for a fresh and fruity salad; combine pistachios, basil, mint, olive oil, and garlic in a food processor, and process into pesto; add pistachios and minced red and yellow bell peppers to cooked quinoa.
6. Kale, spinach, chard
Kale, spinach, chard, and other leafy greens are high in antioxidants and magnesium, and eating one and a half extra servings a day can reduce the risk of diabetes by as much as 14 percent.
Try this: Sauté chard and spinach with garlic and olive oil, then purée with coconut milk for a creamy soup; finely chop kale, olives, and tomatoes, and use as an omelet filling; shred collards into long, thin strips, sauté till tender, then toss with cooked pasta and cheese.
7. Garlic and onions
Garlic and onions contain sulfur compounds that lower blood sugar and reduce the risk of diabetes. Garlic can also lower blood pressure, LDL cholesterol, and triglycerides in people with diabetes.
Try this: Cut the top off of whole heads of garlic, drizzle with oil, and roast until soft; mash minced garlic, minced parsley, and coarse salt into a paste, and use it as a pungent condiment for bread or vegetables.
8. Lentils
Lentils are loaded with fiber and protein, which digest slowly and help balance blood sugar, and frequent consumption of lentils protects against diabetes. Other legumes have also been shown to improve glycemic control and reduce heart disease risk in people with diabetes.
Try this: Cook red lentils and onions in coconut milk and red curry paste, then stir in frozen peas; toss chickpeas, shredded spinach, cherry tomatoes, kalamata olives, and feta cheese with olive oil.
9. Red grapes
Red grapes contain resveratrol, quercetin, and other compounds that reduce blood sugar, and higher consumption of red grapes is linked with a reduced risk of diabetes.
Try this: Toss red grapes, arugula, walnuts, and golden beets with a sweet balsamic vinaigrette; roast grapes with rosemary sprigs and serve on goat cheese crostini; combine chopped grapes with minced green jalapeños, minced red peppers, minced onions, and lime juice for a zesty salsa.
Written by Lisa Turner for Better Nutrition and legally licensed through the Matcha publisher network. Please direct all licensing questions to [email protected]
Featured image provided by Better Nutrition
Blood Sugar Health with MariGold
Diet along with exercise are #1 when it comes to avoiding or controlling diabetes, especially when you follow a low-carb, low-sugar diet.
ALL MariGold Products are low sugar, low-carb and designed to help keep your blood sugar numbers in check.
By making MG products a regular part of your diet, you can help control cravings and feel full longer while fueling your body with high quality ingredients like grass-fed whey protein isolate, organic grass-fed ghee, and organic coconut oil.
Did you know that consuming whey protein before a regular breakfast can reduce the blood sugar spikes that can occur after meals and also improves the body's insulin response?
Our Whey Protein Isolate Powder has 26 grams of protein per serving and is derived from sweet Irish milk given from Truly Grass-Fed™ cows who spend 95% of their time roaming freely and feasting upon the delicious green grasses of the breathtaking Irish countryside.
It's cold processed and micro filtered, leaving it UNDENATURED and incredibly creamy.
Then it's INSTANTIZED, with choline-rich sunflower lecithin, so it mixes easily into your favorite recipes or shakes. Sunflower lecithin is rich in phosphatidylcholine, which helps protect from inflammation in the gut. That means MariGold WPI can help keep your gut healthy! Sunflower lecithin is also a brain-boosting ingredient.
All of our products are gluten free, non-GMO, hormone free, grain free, soy free, lactose free, sugar alcohol and sucrolose free and only made with the best REAL FOOD ingredients.