Pumpkin Peanut Butter Cheesecake Truffles
(Keto / Low-Carb / No-Bake)
Do you like peanut butter cups? Do you like cheesecake? Do you like pumpkin pie?
Well, you don't have to choose just one, you can have all three! And the best part is that you can get a nutrient boost at the same time.
These Pumpkin Peanut Butter Cheesecake Truffles are easy to make (no baking involved, whoo hoo!), and they pack a ton of nutrition in tiny treat form! There's a protein boost with our MariGold Creamy Vanilla Whey Isolate Protein Powder, along with the additional protein from the peanut butter. Even the pumpkin has a bit of protein too.
Pumpkin also contains the powerful antioxidant, beta carotene, along with fiber, potassium, vitamin A, vitamin C, vitamin E, and so much more.
Now, you might say, peanut butter and pumpkin??? That's a weird combination, right? Well, Deedee (@ketowithdeedee), creator of this recipe, thought it might be as well, but it turns out that it's full of scrumptious flavor that you're gonna love!
These bite-sized desserts might be just what you need (and want) for a pumpkin fix for the fall season.
Deedee loves baking and creating keto & low carb recipes. She shares her incredible creations on her Instagram. Be sure follow her (@ketowithdeedee) for more creative and amazing recipes!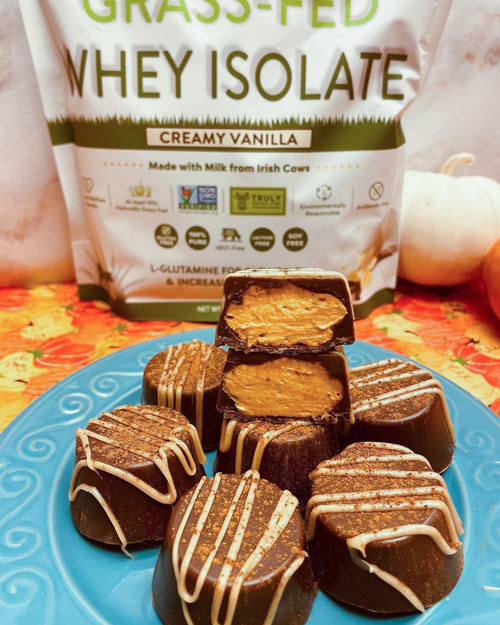 "I wasn't sure about the pumpkin + PB combo, but it worked out so perfectly! These are so easy to make and are the perfect no bake fall treat!"
– Deedee (@ketowithdeedee)
2 Oz Cream Cheese, softened
1/4 C Pumpkin Purée
1/4 C Peanut Butter (I use @jifbrand no sugar added)
1/4 C MariGold Creamy Vanilla Whey Isolate Protein Powder
1 TSP Vanilla Extract
1 TSP Pumpkin Pie Spice
Approx 6 oz Chocolate (I used is the milk chocolate chips by @choczero)
Blend cream cheese & peanut butter until smooth.
Add in pumpkin and mix until combined.
Add in all other ingredients and mix until smooth.
To assemble your truffles, you can do this 2 ways.

Either coat truffle molds with chocolate, put filling in the middle, and top with more chocolate. Let set in refrigerator until chilled.
If you don't have a candy or truffle mold, you can just roll your filling into balls, then dip into chocolate. NOTE: If doing it this way, make sure to refrigerate the filling after blending it until it thickens up, then you can easily roll or scoop into balls.

Keep them stored in the fridge or freezer and just pop one out when you need something sweet.
MariGold ingredients used in this recipe:
MariGold Whey Isolate is derived from sweet Irish milk given from Truly Grass-Fed™ cows who spend 95% of their time roaming freely and feasting upon the delicious green grasses of the breathtaking Irish countryside.
MariGold Creamy Vanilla Whey Protein Isolate has everything you want in a protein drink, and none of the things you don't!