Browned Butter Carmel Pecan Cheesecake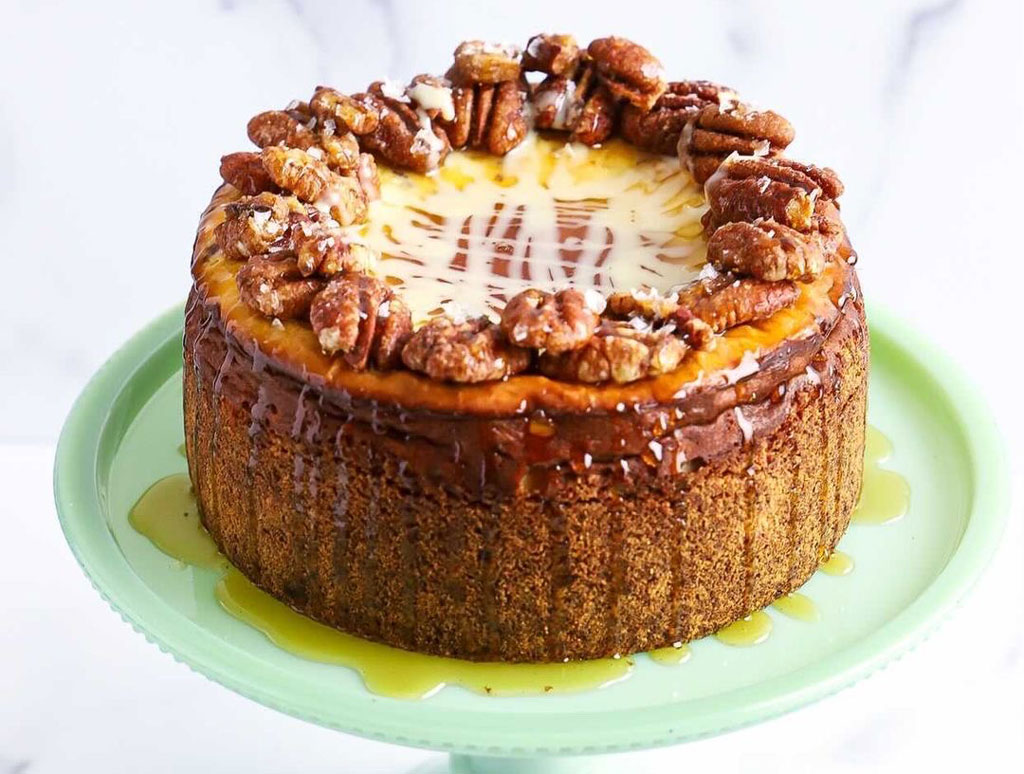 This cheesecake is made with two of my favorite @marigold products! This crust is not only packed with delicious and rich browned butter flavor but it's also packed with some amazing grass-fed whey isolate! I think we should start a new trend of post-workout cake instead of shake 🤣 Also if you haven't tried their amazing nuts then you are seriously missing out! They are keto-friendly perfection👌🏻 Anyway y'all… here is how you make it!
Crust
1/2 cup marigold Unflavored Whey Isolate
1/2 cup almond flour
1/3 cup @sukrin golden sweetener
1/2 cup browned butter (melt butter in a saucepan over medium heat until golden brown)
4 drops @oooflavors graham cracker flavor
Filling
2 (8oz) pkg cream cheese
2/3 cup powdered sweetener
1/4 cup browned butter
3 eggs
1/3 @marigold Texas Praline Pecans, chopped
View this post on Instagram
Preheat oven to 350 and grease pan (I am using a 6-inch removable bottom)
Add whey isolate, almond flour, and sweetener to a bowl and whisk to combine. Add butter and flavoring and mix well. Press crust into the bottom of pans bringing it up the sides an inch or two.
Add cream cheese, powdered sweetener, and browned butter to a bowl. Whip on low speed until fully combined. Still, at low speed add in one egg at a time until fully mixed. You want to avoid whipping any cheesecake at high speeds to prevent adding air and getting cracks. Fold in pecans.
Pour cheesecake filling over crust and spread evenly out. Place pan on a baking sheet to catch any butter run out.
Bake for 50-55 minutes. Chill 8 hours and decorate however you like! I drizzled some @sukrin Carmel syrup and added more Marigold pecans around the perimeter. I also added a white chocolate cinnamon drizzle to the center and topped the pecans with flake salt.
Once chilled and set slice and enjoy!!!
MariGold ingredients used in this recipe:
Our MariGold Truly Grass-fed Whey Isolate Protein Powder is 100% pure, has 26 grams of protein per serving and is non-GMO, rBST free, and is lactose, soy and gluten free.
MariGold WPI is cold processed and micro filtered, leaving it UNDENATURED and incredibly creamy. Then it's INSTANTIZED, with choline rich sunflower lecithin, so it can easily be mixed with water, or any of your favorite morning and afternoon smoothies or drinks for a great protein boost. It can also be baked in your favorite recipes 🙂
Our Texas Praline Pecans are a decadent treat on their own, but as you can see, they can be used in many recipes and homemade snack mixes. They are made with Organic Texas Pecans, Organic grass-fed ghee, Organic maple syrup, Organic stevia and Pink Salt.
This scrumptious mixture of pecans, butter and sweetness really gets your taste buds drooling.